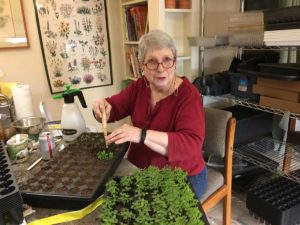 Judy Kirkland is a retired English teacher from Columbia County who presently works part time at Augusta Technical College.  She is a Master Gardener and garden club member and has served on state boards for Master Gardeners and Garden Club of Georgia.  She completed the horticulture program at Augusta Tech and earning three certificates and an Associate of Applied Science in Horticulture.  She has also completed three schools through the National Garden Club:  Landscape Design, Gardening Study, and Environmental Studies.
In addition to gardening, Judy loves to read, cross stitch, and paint in watercolors.  She and her mother crafted a garden-themed quilt which hangs in her home.  She collects chickens, old Santas, birdhouses, and plants.
Judy and husband Larry are big do-it-yourselfers who have labored together building their home for many years.  The couple spent six weekends tearing down a chicken house and salvaging the lumber to use as wainscoting and subflooring as they built their home—therefore her love of all things chicken.  They call the house "the chicken coop." She laid all the tile on floors and counters and walls as well as the brick walks and concrete stone patios.  She has installed one skylight and has four more ready to install.  They live on ten acres near the end of a dead-end road.
Judy's goal with her business is to grow plants for pollinators.  She specializes in natives but includes others that attract pollinators.  She does not use pesticides and plants for butterflies, bees, and birds knowing that host plants may get eaten by caterpillars.
The mission of Asclepias and More is to produce and sell high quality plants that will attract pollinators and to educate garden club members and the general public in Augusta, Georgia, and surrounding areas as to how to attractively provide nectar and host plants and safe breeding sites for pollinators. I will specialize in native plants but will have others that attract pollinators and handouts or web areas that list which plants are beneficial to which butterflies, bees, birds, and other pollinators. I will give educational presentations at garden club meetings and other events such as the Home and Garden Show and have plants available for sale after the presentations and at local events such as the Pendleton King Park plant sale. I will advertise the availability of my plants through Master Gardener and garden club publications, by displaying some at meetings, by organizing a Facebook business page and a website, and by utilizing additional sites such as Grovetown Neighborhood Watch. I will also distribute handouts at events.